News
Bartlesville
Posted: Jan 10, 2022 9:53 AMUpdated: Jan 10, 2022 10:34 AM
City Matters 1-10-22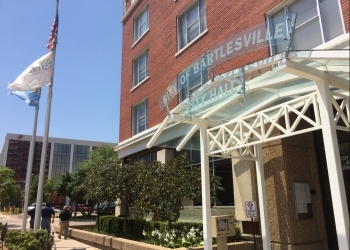 Tom Davis
Appearing on CITY MATTERS on Monday was City Manager Mike Bailey with City Works Director Keith Henry, Police Chief Tracy Roles and City Clerk Jason Munninger.
The program began with fond rememberances of city servants who recently passed including Brenda Kiselak and former City Manager Ed Gordon.
City Manager Mike then broke down the terms of a non-binding letter of intent with the First Christian Church and the city. The understanding allows for many different possible outcomes in the month of May depending on what or if the city of Bartlesville truly thinks it has a need for the building. Among the possibilities is to accept the offer, reject the offer, propose and alternate use or ask for more time to make a decision.
Bailey stated that the city has opened bids for consultants to examine the possible needs.
City Public Works Director Keith Henry reminded city solid waste residential customers to look for their coupon in their next bill for a free trip to the Osage Landfill.
Henry also reminded that next Monday is a holiday and that Monday customers will get their trashed picked up on Wednesday and that your undecorated Christmas trees can still be taken to Sooner park to be mulched.
Police Chief Tracy Roles updated everyone on the possible pipebomb found near Wallgreen's on South Washington Blvd last week. It turns out the "possible" pipe bomb was indeed a real pipebomb that was handled and detonated by the Tulsa Bomb Squad. Roles said BPD is still the lead investigative agency on the matter and that they are working with the ATF.
On a lighter note, Roles said the New Years Eve Arrive Home program worked well with 7 people taking the Chief up on a free ride home in a polic car instead of driving impaired adn risking arrest or pobbily a fatal accident.
City Clerk Jason Munninger ended the program with more good news on the local sales tax collections. Munninger said the city was up 16 percent more than this month last year in collections.
« Back to News