Sports » Latest News
Bruins
Posted: Dec 18, 2021 5:59 AMUpdated: Dec 18, 2021 6:59 AM
Bartlesville Boys Upset Broken Arrow; Lady Bruins Fall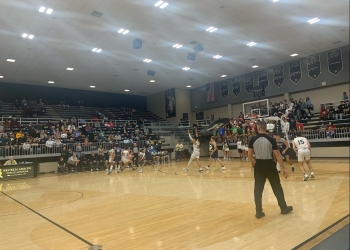 Bartlesville High School's boys' basketball team earned a signature win over No.2 Broken Arrow on the road last night. The Bruins won 57-56 against one of the best teams in the state.
BHS rallied from down 16 points early in the third quarter. The Bruins relied on Aadhi Ayyapan who led the team with 17 points. Ayyapan was the spark the team needed down the stretch. He scored this bucket to give the Bruins the lead in the final two minutes of the contest.
David Castillo, Jordan Carter and Kent Girard each tallied double figures for the Bruins in the win. Bartlesville head coach Clent Stewart spoke after the win.
The Lady Bruins got off to a promising start but fizzled in the second half to fall 58-51. The BHS girls were outscored 32-23 in the second half. TK Valentine led the Lady Bruins with 11 points.
Bartlesville is off for winter break. Both teams will restart action with Union on January 4.
« Back to Sports