Sports » Latest News
Sports
Posted: Jan 03, 2022 7:21 AMUpdated: Jan 03, 2022 8:58 AM
Bruin Basketball Back on Tuesday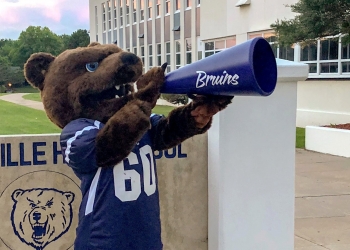 Bartlesville High basketball gets back after it after more than two weeks off on Tuesday.
The Bruins have been idle for about 15 days, but both the boys and girls teams will be at home against a powerhouse in Union tomorrow night at Bruin Fieldhouse. This will be the first home games of the season for BHS, and both teams are set for a busy few days to begin the year.
Union comes to Bartlesville on Tuesday night for a Frontier Valley Conference double-header, followed by the annual ConocoPhillips Arvest Invitational on Thursday-Saturday, also at Bruin Fieldhouse.
Bruin head coach Clent Stewart talks about his club's schedule over this week.
Union will be a challenge for both the girls and guy's teams, as usual. The Redhawks are ranked No. 12 on the guy's side and No. 3 on the girls. We will have both those games on the radio Tuesday night on KWON – AM 1400, FM 93.3 and 95.1 along with KWONTV.com.
« Back to Sports