Sports » Latest News
Sports
Posted: Jan 04, 2022 8:01 AMUpdated: Jan 04, 2022 9:01 AM
Bruin Home Openers on Tuesday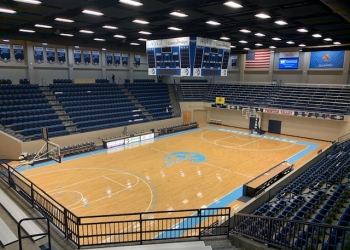 There is a monster double-header for both the Bartlesville High basketball teams on Tuesday night, and it's the first home games of the season for BHS.
Union visits Bruin Fieldhouse for a Frontier Valley Conference twin bill. The boys particularly have a couple things on the line on Tuesday evening.
The Redhawks are two spots ahead of the Bruins in the latest rankings update in 6A hoops. Those rankings will determine who hosts a regional in late-February.
In addition to the possible postseason stakes, BHS has still never beaten Union since Clent Stewart took over the program. The Bruins are 0-11 against Stewart's alma mater, and former head coach Rudy Garcia. Stewart is a 2004 Union graduate.
Stewart talks about what to expect out of Union.
The return home is a welcome sight for both clubs, as well. The Bruin guys have face particularly hostile road crowds during their first two conference road dates. Opposing students at both Jenks and Broken Arrow showed up to get a glimpse at David Castillo - Something Stewart says his club is having to get used to.
A 6:30 tip for the girls, with the boys to follow. Both those games can be heard on KWON – AM 1400, FM 93.3 and 95.1.
A video livestream also on KWONTV.com.
« Back to Sports