Sports » Latest News
Sports
Posted: Oct 01, 2022 6:34 AMUpdated: Oct 01, 2022 7:34 AM
Bruins Demolish US Grant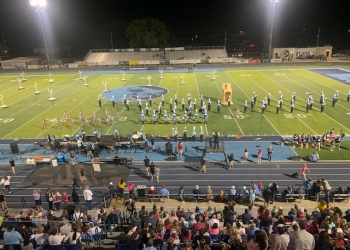 Bartlesville High football snapped its three-game losing skid in a blowout victory over US Grant at Custer Stadium on Friday night.
Bruins topped the Generals 55-0. BHS scored early and often. Five touchdowns in the first quarter when Bartlesville's starters were in took the doubt out of the game.
Damien Niko scored two of those TDs. The first for Niko was on Bartlesville's first special teams score of the year, a nearly 85-yard punt return.
The next was just a few plays later, when Niko scored from 34-yards out after Bartlesville started another drive inside Grant territory.
In total eight touchdowns were scored by seven different players.
BHS got on the board via a 31-yard PJ Wallace score. Noah Darnell got his first touchdown of the season on an 11-yard reception. JD Atterberry and Cam Hightower both had rushing touchdowns. Eli Lino caught an 11-yard pass for a score. And the freshman quarterback Dayton Crabtree found Dantae Horn for the final touchdown of the game.
Bartlesville improves to 2-3, 1-1 in District play. BHS will face PC West on the road this coming Friday night.
« Back to Sports