Sports » Latest News
Sports
Posted: Jan 11, 2022 6:29 AMUpdated: Jan 11, 2022 12:57 PM
Bruins Head to Owasso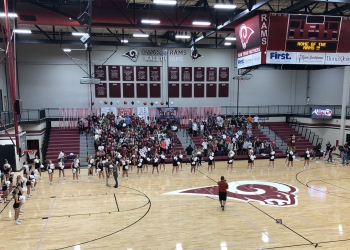 Bartlesville High basketball will try to rebound after a couple losses on Saturday, as the Bruins are back on the road in Frontier Valley Conference play at Owasso on Tuesday evening.
The Bruin guys will keep trying to figure out a way to pull out wins in close games.
BHS has lost games to Jenks, Union and Booker T. Washington all in excruciating fashion. Bartlesville held leads in the second half in all three games.
Two of them went to overtime. High-leverage free throw shooting has also been an issue, with missed three throws in the final minute of all three games contributing to the losses.
The Bruins also own a big-time win in a similar type of game at Broken Arrow.
Head coach Clent Stewart says he thinks his team is getting battle tested early this season.
Ram guys are ranked at No. 11, and the Owasso girls check in at No. 19 in 6A.
BHS guys stayed at No. 14 statewide in the latest OSSAARankings.com update.
A 6:30 tip for the girls, guys to follow on Tuesday - on KWON – AM 1400, FM 93.3 and 95.1. You can watch the video livestream on KWONTV.com.
« Back to Sports