Sports » Latest News
Sports
Posted: Jan 12, 2022 7:32 AMUpdated: Jan 12, 2022 8:37 AM
Bruins Outlast Owasso in OT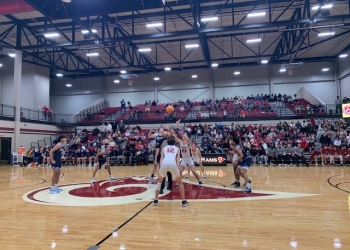 Bartlesville High boys hoops picked up another signature win early in the 2021-22 campaign, as the Bruins outlasted their Highway-75 rivals in Owasso. Another overtime thriller on Tuesday night.
Bartlesville beat the Rams, 77-74. It was a split night, with the BHS girls losing a close one, 50-47.
On the girls side first, BHS had an 11-point lead evaporate in the second half. BHS (3-7) led by four at halftime after outscoring the Lady Rams 16-5 in the second quarter.
Owasso took the lead with a three-point with 1:25 left and never relinquished.
-------------------------------------------------------
On the guy's side, it was another back and forth affair. Neither team held more than a nine-point lead. BHS struck first in the overtime period on this floater from Jordan Carter, and that would end up giving Bartlesville the lead for good.
The Bruins (5-4) were up two with seconds left in in the fourth quarter when Owasso was fouled on a made layup that tied it. The Rams missed a free throw with 6.1 seconds left that could have given them the win in regulation, and the teams went to overtime.
BHS hit 11 three-pointers in the win. This one from Aadi Ayyappan gave the Bruins a late three-point lead in regulation.
Bartlesville would go 6-8 shooting free throws in the final 2:18 of overtime to ice the three-point win.
David Castillo led all scorers with 23, Kent Girard had a career night with 18. Both Carter and Ayyappan were also in double-figures.
That is the Bartlesville guy's first win over Owasso since Dec. 2 of 2016.
Bruins host Sand Springs next on Friday.
« Back to Sports