Sports » Latest News
Posted: Jan 17, 2022 7:21 AMUpdated: Jan 17, 2022 8:24 AM
Busy Week for BHS Hoops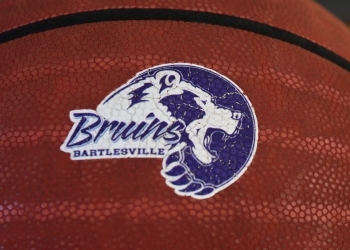 Bartlesville High basketball will again have both the girls and guys teams playing five games over five days, as BHS continues conference play on Tuesday before tournament action in Oklahoma City over the weekend.
BHS hosts Bixby for a Frontier Valley Conference double-header on Tuesday night at Bruin Field House. Bartlesville will then go to Carl Albert for the Titan Classic for games on Thursday, Friday and Saturday.
The Lady Bruins schedule continues to be tough, BHS will take on a Bixby girls' team that is ranked at No. 5 in the state. The Lady Spartans just beat Jenks by 30-points on Friday. Every team the Lady Bruins has played this season has been in the top-20 of Class 5 or 6A.
On the guy's side, another chance to extend the Bruins win streak. BHS blasted Sand Springs on Friday night, 82-54. It was a blowout from the start, and after a win over Owasso on Tuesday, the Bruins have won two in a row.
Junior guard Aadi Ayyappan says it's an important time of the year.
Both Bartlesville games Tuesday night will air on KWON – AM 1400, FM 93.3 and 95.1. You can also watch the live stream on KWONTV.com.
« Back to Sports