Sports » Latest News
Caney Valley Basketball
Posted: Dec 01, 2021 2:45 PMUpdated: Dec 01, 2021 3:45 PM
Caney Valley Ready to Compete in NE Valley Conference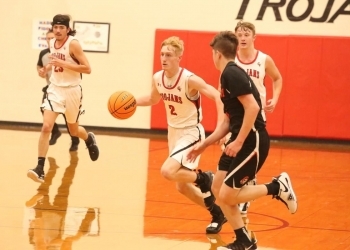 The Caney Valley Trojans won their opener over Barnsdall on Tuesday night, 67-17. A veteran Trojans team comes into the new season with high expectations. Caney Valley appears to be one of the tougher squads in a loaded Northeast Valley Conference this season.
The Trojans went 9-8 last year in an extremely shortened season. All signs point to CV playing all of its games this year. Trojans head coach Tug Brinker talks about his starting five.
Caney Valley could be one of the taller teams in the area with three starters at over 6'3. This gives the Trojans a big advantage over several teams. Despite this coach Brinker wants to see his team improve in rebounding in order to be more competitive.
Caney Valley will face its first big test with defending state champs Oklahoma Union on the road this Friday.
(PHOTO COURTESY: Tracy's Photography)
« Back to Sports