Sports » Latest News
Sports
Posted: May 13, 2022 7:44 AMUpdated: May 13, 2022 8:44 AM
Carter Commits to Southwestern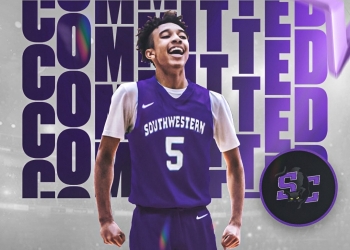 A Bruin basketball seniors has picked where he is going to continue his career.
Jordan Carter verbally committed to Southwestern College in Winfield, Kansas earlier this week. Carter was one of three Bruin seniors on last year's club.
He averaged 7.8 points-per-game this past season, while appearing in 21 of Bartlesville's 23 games. He shot 37.4-percent from the field.
Maybe his most impressive state, Carter averaged three assists to less than two turnovers a game and had the second-best assist-to-turnover ratio on the team.
Southwestern competes in the Kansas Collegiate Athletic Conference where Oklahoma Wesleyan also resides.
just gettin started…?? @coachOBatSC @mcsorley_jimmy @SCMensBall @buildersports @BvilleBruinsMBB @BuddyBuckets pic.twitter.com/mfCfNHZVWm

— Jordan Carter (@jordanc2022) May 11, 2022
« Back to Sports