Sports » Latest News
Sports
Posted: Sep 30, 2022 1:18 PMUpdated: Sep 30, 2022 2:18 PM
Copan - WCS on Radio Friday Night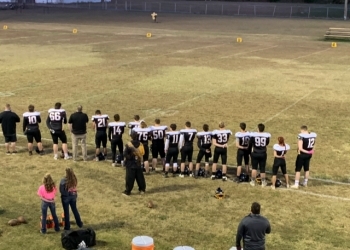 A Washington County eight-man battle between Copan and Wesleyan Christian School will kick off Week No. 5 at Copan on Friday night, with special radio coverage on 99.1 FM - KPGM.
The Hornets and Mustangs will hookup for the third straight year in a District contest – and both enter the game on a win streak. WCS is coming off a blowout win against Oaks, while Copan has won two games in a row for the first time since 2009.
Both teams feature quarterbacks that are the coach's sons. At Copan, freshman Kane Foreman is changing the way the Hornets play.
Wesleyan Christian School head coach Curt Cloud gives us a preview of the Hornets.
Meanwhile on the Copan side of things, the Hornets will try to keep some momentum and will try to slow down one of the top offensives in the area.
Copan coach Marshall Foreman goes over the weapons at Wesleyan Christian School.
A 7:00 kick from Copan. We will have that game on the radio on Friday night – Sports Talk 99.1 FM – KPGM.
Dalton Spence and former Copan boys' basketball coach Kevin Foreman on the call.
« Back to Sports