Sports » Latest News
Dewey Basketball
Posted: Jan 06, 2022 7:12 PMUpdated: Jan 06, 2022 8:12 PM
Dewey Outdone on Day One of Oologah Tournament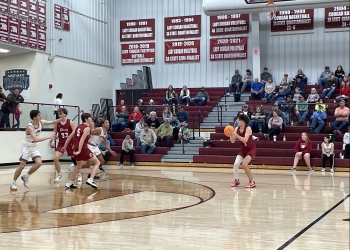 Dewey was on the wrong side of a 59-38 score on day one of the Oologah tournament as the Doggers fell to Cleveland on Thursday evening. Dewey fought hard but ultimately the shots were not falling against one of the top teams in the tournament.
The Doggers kept the deficit under 10 points for a bulk of the contest, but the Tigers would build the lead at the end of third quarter and wouldn't look back. Dewey played tough defense and forced several turnovers early in the contest.
The Doggers offense was reliant on the three-ball. Dewey made six three's on the game. Colby Miller made three of those utside shots off the bench including this one in the second half.
Miller and Jake LaSpisa each finished with nine points. Dewey could not extend its three-game winning streak. The Doggers fall to 5-4 on the season.
Dewey will be in action at 2:30 p.m. on Friday. The Doggers will take on the loser of Cascia Hall and Oologah. Radio coverage of Friday's game can be heard on Sportstalk 1500 AMM—99.1 FM KPGM.
« Back to Sports