Sports » Latest News
OKWU Basketball
Posted: Nov 29, 2021 9:14 PMUpdated: Nov 29, 2021 10:17 PM
Eagles Notch Record Victory Over Bethany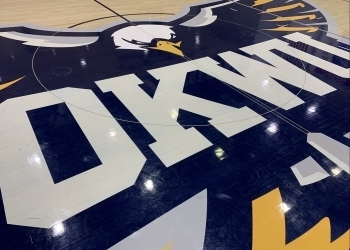 The Oklahoma Wesleyan men's basketball earned a resounding 105-55 win over Bethany College on Tuesday night. The Eagles have now won 11 straight games to the start the season. The win marks the largest conference victory since head coach Donnie Bostwick's return prior to the 2017-18 season.
The Eagles paced Bethany to a 47-20 first half lead. The Swedes' top scorer was inactive and they could not muster much against a stout OKWU defense. Dylan Phillip led the Eagles with 19 points on five three-pointers including this one just before half time.
OKWU would knock down 15 three's in the victory. Lense Ramey, Kaleb Stokes and Brandon Bird all had at least 10 points in the win. OKWU is 5-0 in KCAC play.
The Lady Eagles did not fare as well, losing 67-55 to Bethany. The Lady Eagles faced an 18-point second half deficit, but were able to cut it to seven points in the fourth quarter. However, OKWU would get no closer. River Jeffries was the top highlight with a career high 15 points. The Lady Eagles are now 4-5 on the season.
Both teams hit the road Thursday to play Bethel College in North Newton, Kansas.
« Back to Sports