Sports » Latest News
OKWU Basketball
Posted: Dec 03, 2021 12:04 AMUpdated: Dec 03, 2021 1:21 AM
Instant Classic: OKWU Wins in Final Second at Bethel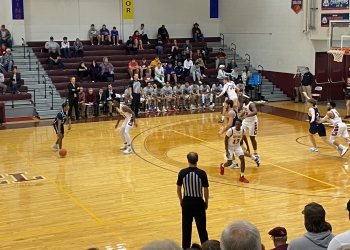 Oklahoma Wesleyan men's basketball earned a thrilling victory over Bethel on Thursday night. Freshman guard Derrick Talton Jr. scored on a putback with less than a second remaining to give OKWU a 75-73 win. Here's how the final sequence sounded on KPGM.
Jaden Lietzke and Lense Ramey each had go-ahead buckets in the final minute but both were answered by Bethel. Head coach Donnie Bostwick opted to not call a timeout after the Threshers tied the game at 73 with nine seconds left.
Three different Eagles scored in double-digits. Talton was one of them with 11 points—nine of which came in the first half. Talton talks about his one second half bucket.
OKWU moves to 12-0 with the win. The Eagles have a three game advantage over last years champions in the KCAC standings.
The Lady Eagles struggled once again, losing to Bethel 60-46. The OKWU women's team trailed by 16 at halftime before cutting the lead to five in the fourth quarter. However, the Lady Eagles offense would go dry down the stretch. OWKU has now lost three straight games.
Both teams will be back on Saturday afternoon for a home doubleheader with Friends.
?INSTANT CLASSIC ALERT?

DJ Talton with the game winner! What a way to stay undefeated!

No. 9 OKWU 75, No. 25 Bethel 73 @OKWUeagles @OKWUeagles_MBB @NAIAHoopsReport pic.twitter.com/bpj1OqYtj6

— Max Gross (@MaxGross55) December 3, 2021
« Back to Sports