Sports » Latest News
Nowata Basketball
Posted: Dec 30, 2021 3:15 PMUpdated: Dec 30, 2021 4:15 PM
Ironmen Ready for Second Semester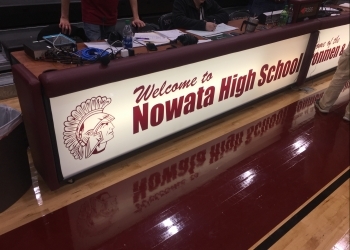 The Nowata Ironmen basketball team is off to solid start to the season once again. The Ironmen are 4-2 currently and entered the winter break riding a three-game winning streak. A young core of Ironmen have performed well through the first part of the season so far.
First-year head coach Nate smith has preached ball movement with his Princeton offense system. One player that has excelled in the new offense is Kaleb Bashford. The junior saw some mop-up minutes last year but has already put together multiple double-digit point efforts this season. Smith talks about what Bashford has done well.
Bashford is just one of several players that support top-scorer Jace Thompson. The development of this squad will continue in second semester with many key conference games on the horizon. Nowata plays Chelsea on Monday to get back underway.
« Back to Sports