Sports » Latest News
Nowata Basketball, Oklahoma Union Basketball
Posted: Jan 12, 2022 3:17 PMUpdated: Jan 14, 2022 11:55 AM
Ironmen, Cougars Battle for Nowata County Superiority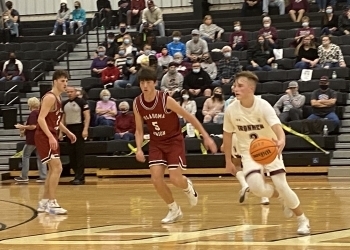 Nowata hosts Oklahoma Union in one of the biggest Northeast Valley Conference matchups of the year on Friday. The defending state champs have won the last seven meetings over their rival to the south.
OKU comes in ranked at No. 2 in the Class 2A polls. The Cougars are on the heels of a third place finish at the Oologah tournament last week. OKU did not play a game on Tuesday after playing four games the week prior. Cougars head coach Lee Ott evaluates where his team is at.
Nowata is currently the hottest team in the area. The Ironmen squeaked past Caney Valley to win its eighth straight game on Tuesday. This will be the first matchup against OKU for first-year head coach Nate Smith. He says the team will be prepared for a tough battle.
Due to homecoming festivities the boy's game will be played first. Radio coverage can be heard on KRIG 104.9 FM and video at KRIGTV.com starting at 6:15 p.m.
« Back to Sports