Sports » Latest News
Nowata Basketball
Posted: Jan 03, 2022 9:43 PMUpdated: Jan 03, 2022 10:43 PM
Nowat Fights Past Chelsea in Defensive Battle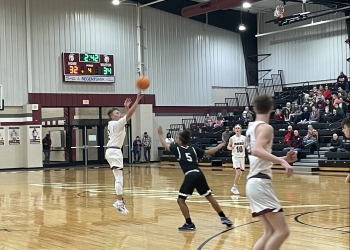 The Nowata Ironmen overcame a rough start to down Chelsea 43-40 in a Northeast Valley Conference battle on Monday night. Nowata shook off the winter break rust as it won without making a field goal in the first quarter.
Neither side scored for nearly seven minutes to open the game. James Ewers finally hit the first field goal for the Ironmen early in the second quarter. Chelsea led 20-10 at the break. However, Nowata would level off in the third period as its offense started to gain traction.
The Ironmen would go on an 11-0 run over six minutes to briefly take a 21-20 lead. Chelsea would battle back and take a four point advantage to the final frame.
Nowata showed great resolve down the stretch and hit several big shots. Jace Thompson led the Ironmen with 16 points. This deep three pushed the Ironmen ahead late in the game.
Skylar Stevens battled foul trouble the whole way but finished strong with 14 points. Nowata win its fourth straight game to move to 5-2 on the season. The Ironmen will head to Chelsea for tournament play starting on Thursday.
« Back to Sports