Sports » Latest News
OKWU Basketball
Posted: Nov 23, 2021 9:33 PMUpdated: Nov 23, 2021 10:33 PM
OKWU Basketball Takes Two Wins Against Kansas Wesleyan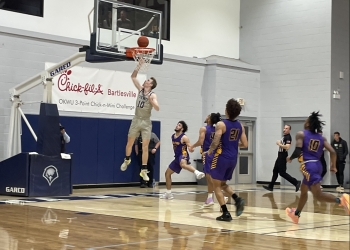 Both teams let it eat as Oklahoma Wesleyan basketball came away with a pre-Thanksgiving sweep of Kansas Wesleyan on Tuesday night. The Lady Eagles pulled off an upset to win 69-60 and the Eagles men's team blitzed KWU to win 86-69.
The women's side took down one of the best teams in the conference. The Lady Eagles used a 10-1 run to start the second half to pull away. Freshman Zariah Tillman had a double-double with 14 points and 11 rebounds. Several Lady Eagles hit big shots including this three from Cierra Johnson to build the lead.
The Eagle men's team took a four point halftime lead and ran with it. OWKU once again wore an opponent down in the second half outscoring the Coyotes 47-34. The Eagles put five players in double-figures on the night. Kaleb Stokes had 13 points and this rim-rattling dunk.
OKWU used a strong 16-4 run early in the second half to bury a previously undefeated KWU team. The Eagles are now 9-0 on the season. Both teams return to action with a Saturday doubleheader at Avila.
« Back to Sports