Sports » Latest News
OKWU Basketball
Posted: Jan 12, 2022 2:47 PMUpdated: Jan 12, 2022 3:47 PM
OKWU Starts Second Wave of Conference Play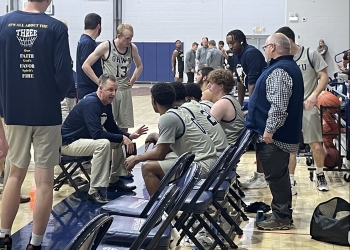 Both Oklahoma Wesleyan basketball teams have reached the halfway point in the Kansas Collegiate Athletic Conference season and will start to see opponents for the second time. The two squads travel to Hillsboro, Kansas to play a doubleheader against Tabor College on Thursday.
The Lady Eagles currently sit in seventh in the KCAC standings with a 7-5 record. The women's team will look to avenge a 72-63 loss it suffered to Tabor on Nov. 17. Lady Eagles head coach Grace Hadley thinks her team is capable of rising in the standings.
The OKWU men's team dropped one spot in the NAIA Coaches poll to No. 5. The Eagles rebounded from their first loss of the season Saturday with a 58-point win over Sterling on Monday. OKWU is now 17-1 on the season and comfortably in first place. Head coach Donnie Bostwick talks about the strengths of the team.
Action starts at 6 p.m. from Tabor. Radio coverage can be heard on KWON AM 1400—FM 93.3, 95.1.
« Back to Sports