Sports » Latest News
Sports
Posted: Dec 30, 2021 6:21 AMUpdated: Dec 30, 2021 7:22 AM
Sports Year in Review: Castillo Emerges Nationally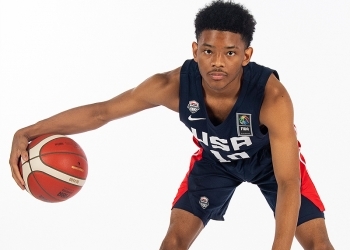 We continue our final couple of days of 2021 with our Year in Review Series, as we look back at the best local sports stories from the past calendar year.
The emergence of Bartlesville High Bruin basketball guard David Castillo may be the biggest story of the year.
The now-sophomore at BHS has garnered national attention after his consistently spectacular start to his high school career. Castillo averaged nearly 22-points per game as a freshman at Bartlesville, and is averaging nearly 26-points per game in the early part of this season.
He has tallied 12 NCAA DI offers, most recently from the powerhouse Kansas Jayhawks. And he was selected for the Team USA U16 team and represented his country over the summer during games in Mexico.
He has been rated as a 5-star recruit by ESPN.com's recruting service, and is a top-15 player nationally in the class of 2024.
Castillo says he has enjoyed the whirlwind start of his Bruin career.
Castillo's head coach in Clent Stewart was a Division I player himself at Kansas State. Stewart says he isn't surprised that Castillo has gotten such interest, but how quickly it came would have been hard to predict.
Bartlesville High is currently 2-2 against a tough schedule during the first portion of the season.
The Bruins and Castillo will be back in action on Tuesday with their first home game against Union.
« Back to Sports