Sports » Latest News
Sports
Posted: Dec 27, 2021 7:47 AMUpdated: Dec 27, 2021 8:47 AM
Sports Year in Review: Dewey Softball Statebound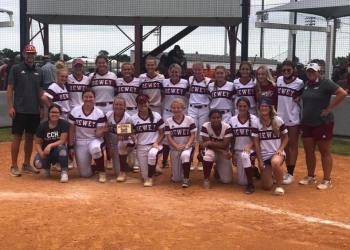 As we continue our look back at the top stories of 2021 you can't ignore what happened on the Dewey softball diamond. The Lady Doggers qualified for their third consecutive state tournament, but this year they were finally able to get a state quarterfinal victory.
Dewey drew Perry and beat them 4-2 at ASA Hall of Fame Stadium in Oklahoma City back in October. The Lady Doggers broke a 1-1 with a big seventh inning aided by some defensive miscues.
Briley Davis was able to secure the final out in the circle.
The Lady Doggers would then play a thriller but would ultimately fall to North Rock Creek in the state semis.
This era of Dewey won't soon be forgotten.
Five Lady Doggers signed to play College softball during a ceremony in November. Gabby Higbee will play at Tulsa, Kaleena Downing heads to Florida International, Makenna Smith and Savanna Moll each signed locally with Oklahoma Wesleyan University and Rian Davis will play at Neosho CC.
« Back to Sports