Sports » Latest News
Sports
Posted: Jan 05, 2022 7:20 AMUpdated: Jan 05, 2022 12:54 PM
Union Sweeps BHS in Home Openers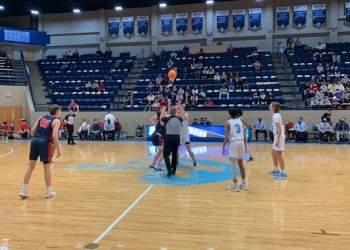 Bartlesville High had a tough night at home against Union, as both the BHS girls and guys fell in their Bruin Field House openers. The Bruin girls lost 59-45, while the Bartlesville guys dropped a tight one in overtime, 69-68.
The Lady Bruins fell behind 6-0 early and had trouble getting back into the contest. Kate Gronigan would lead BHS in scoring with 15. Bartlesville rallied to get within 14 at the final buzzer, and actually outscored Union by two in the second half in the loss.
Meanwhile the guy's game was a battle throughout. A Union transition runner with four seconds left in overtime would win the game for the Redhawks by one. Bartlesville missed three straight free throws that could have iced it in the final minute.
BHS would force the extra period after trailing throughout the first half thanks to stellar performances from Aadi Ayyappan and David Castillo. Both made huge shots down the stretch to cut into the Union led.
This Ayyappan three-pointer cut the Union lead to four in the final two minutes.
The overtime period came after a missed Union free throw on the front end of a one-and-one. The game was nip and tuck throughout OT.
This long pass by Ayyappan up to Jordan Carter would give BHS a three-point lead with less than 40-seconds left.
Castillo would lead BHS with 26-points. Ayyappan added 17 all in the second half. Both BHS clubs are quickly back in action tomorrow in the ConocoPhillips Arvest Invitational.
« Back to Sports