KRIG - Real Country
KRIG at a Glance
Target: Adults 35+
Format: Real Country
Networks: ABC News & Radio Oklahoma Network
Frequency: 104.9
Power: 25,000 watts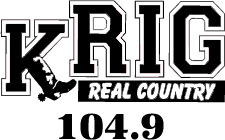 KRIG 104.9 FM delivers NE Oklahoma and SE Kansas with Real Country favorites 24/7. KRIG plays national news from ABC every hour as well as local news from the Bartlesville Radio News Team. Ever watch the movie "Possums" created with Mac Davis and Coach Barry Switzer based in Nowata.? KRIG was the featured radio station!
KRIG Request Line brouht to you by Jesse's Auto Body
Friday Mornings 6am - 9am

Call or Text KRIG:(209) 800- KRIG -or- (209) 800-5744
We say we play "Today's Stars and Legends" and we mean it. Real Country is your favorite Country Classics mixed in with todays traditional sounding Country Hits. You wont hear that "Poppy sounding" wannabee rap country artists on KRIG, but you will here new artists that actually play Real Country music. In addition, KRIG gives you some local news, weather, and information but it's all about the REAL COUNTRY Music. Sample artists include: from Alabama to Kenny Chesney... Johnny Lee to Brad Paisley...Reba McEntire and Loretta Lynn... George Strait to Vince Gill... Loretta Lynn to ...Alan Jackson to Easton Corbin...Willie Nelson and Scotty McCreery , need we say more..... For the latest news in Country Music, tune in each morning at 7:25am to The Nashville Kat or again at 12:30pm. Every Friday mornings, call or text your requests to KRIG at (209) 800- KRIG -or- (209) 800-5744.
The Music
Sample Artists:
Alabama
George Strait
Barbara Mandrell
Clay Walker
Justin Moore

Tim McGraw
Darryl Worley
Reba McEntire
Blake Shelton
Martina McBride

Lonestar
Gary Allen
Dolly Parton
Brooks & Dunn
Crystal Gayle

Neal McCoy
Miranda Lambert
Kacey Musgraves
Billy Raye Cyrus
Diamond Rio
The Fun
Enjoy the personalities and programs of Real Country such as "The Midday Request Show." The fun never stops with great prizes and fun personalities like Evan Fahrbach in the morning and Nathan Thompson during the lunch hour. On Fridays, Nathan hosts "Oklahoma Afternoons" during the lunch hour where he features Oklahoma's Country Stars. KRIG is also the voice of the Nowata Ironmen, Dewey Bulldoggers, and the University of Tulsa Golden Hurricanes. In a world of radio stations filled with shrieking talk show hosts, gabby disk jockeys and head-banging music, 104.9 gives NE Oklahoma and SE Kansas a station everyone will enjoy.
With award-winning weather coverage, KRIG suspends regular programming when severe weather hits. The Washington County Emergency Management weather spotter team goes into action headquartered out of our studios. Staff spotters, radar coverage and constant information is aired until the weather clears. KRIG was honored by the Army National Guard in April 2004 for its Public Service efforts for outstanding support of the Guard's recruitment programs in the state of Oklahoma.
For more information on how KRIG can help you achieve your marketing objectives with our large, loyal, attentive audience, contact us today:
*By phone: 800-749-5936 or 918-336-1001
*By e-mail
Friday Request Line (6am-9am)
Brought to you by Jesse's Auto Body in Dewey & Truity Bank
Text Evan your song request and messages you would like read on the air
Text Requests: (209) 800-5744