KYFM Bright Star 100.1
KYFM at a Glance
Target: Adults 25 to 54
Format: Adult Contemporary
Networks: ABC News, Radio Oklahoma, Local News
Frequency: 100.1
Power: 50,000 watts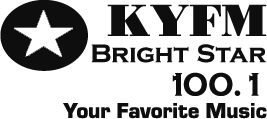 KYFM is NE Oklahoma & SE Kansas' premier adult station. Bright Star 100.1 serves an active, populous area from Bartlesville and beyond. KYFM will reach from Tulsa, Ponca City, Independence, Kansas and to Grand Lake.
Home of Your Favorite Music
With a sound for everyone, KYFM features your favorite mainstream hits from the past 30 years. It's not light...not too heavy. KYFM is radio designed for "at work","at home" or "at play" listening.
Your Best Advertising Environment
KYFM's air sound gives advertisers the very best climate for selling their products and services. Advertising messages are clustered into brief "islands of attention" throughout the hour. Our listeners pay attention to your commercials for two reasons: we give them the latest from area businesses and they know we'll get back to the music quickly.
The Best Personalities
Local radio...with local talent bringing you local information. Tune into Joe Riddle, Amity Hollenbaugh, Phil Weaver and more. Our music attracts our listeners...our "on-air salespeople" keep them! Evenings - we bring you Delilah on weeknights. This popular call-in request show can be accessed by calling: 1-888-6-DELILIAH or 1-888-633-5452 or text: 48484. Sunday nights - we bring you Big Band Favorites!
KYFM 100.1 - Your Sound Investment
For more information on how KYFM can help you achieve your marketing objectives with our large, loyal and attentive audience, contact us today:
*By phone: 800-749-5936 or 918-336-1001
*By e-mail
Sample Music

JUSTIN TIMBERLAKE: What Goes Around
NO DOUBT feat. GWEN STEFANI: Don't Speak
MAROON 5: Love Somebody
KELLY CLARKSON: A Moment Like This
GOO GOO DOLLS: Slide
BACKSTREET BOYS: Quit Playing Games with My Heart
PINK: Just Give Me a Reason
ONE DIRECTION: What Makes You Beautiful
TAYLOR SWIFT: Style
BILLY JOEL: You May Be Right
JASON MRAZ: I Won't Give Up
MADONNA: Borderline
Coverage Map