News
Bartlesville
Posted: Jan 17, 2022 9:40 AMUpdated: Jan 17, 2022 4:21 PM
Lighthouse Outreach Center Lunch Tour Set for Jan. 27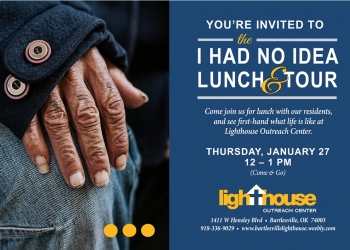 Garrett Giles
The Lighthouse Outreach Center in Bartlesville is celebrating 30 years of service to our area this year.
As part of this momentous occasion, the shelter invites you to it's next "I Had No Idea Lunch & Tour." Linda Radaker, the Director of Development at the Lighthouse, says the come and go event will take place on Thursday, Jan. 27, from noon to 1:00 p.m.
Radaker says all of us have stereotypical views of homeless shelters, but the lunch tour at the Lighthouse changes the perspective of every person that comes for a visit. She says people leave realizing that the Lighthouse is a home that tries to integrate its resident back into our local communities.
You can eat lunch for free with the non-profit's residents and tour the Lighthouse at 1411 W. Hensley Boulevard. There will be no fundraising and no speeches, just a great opportunity to learn more about the homelessness close to home, and how you can make a difference. You can even bring a friend.
To RSVP call 918.336.9029 or send an email to Radaker at linda.radaker@gmail.com. You can visit their website for more information.
« Back to News