News
Bartlesville
Posted: Jan 06, 2023 3:40 PMUpdated: Jan 06, 2023 4:47 PM
No Injuries Suffered After Car Rams Into Barber Shop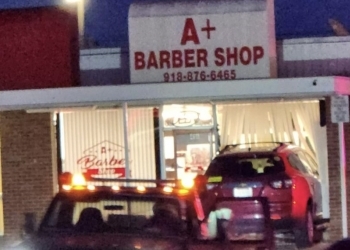 Garrett Giles
The Bartlesville Police Department (BPD) reports that no injuries occurred after a vehicle plowed through the front of a barber shop on Thursday night.
BPD Captain Jay Hastings says the vehicle was approaching A+ Barber Shop, located at 416 SE Washington Boulevard next to the UPS Store, when a young driver mistook the gas pedal for the brakes. Hastings says the vehicle then hopped the curb and crashed into the building. He says there were a couple of people in the barbershop when the accident took place, but no one was injured.
Cpt. Hastings says no citations were issued. Hastings says they did complete an accident report despite the fact that the incident occurred on private property. He says the report was completed because there was a significant amount of damage done to the building.
Cpt. Hastings says inattentive driving was not deemed to be the cause of the accident. He says the driver was simply learning the ropes when the error occurred.
« Back to News