News
Local News
Posted: Jan 12, 2023 2:13 PMUpdated: Jan 12, 2023 2:13 PM
CMT to Hold Character Breakfast Fundraiser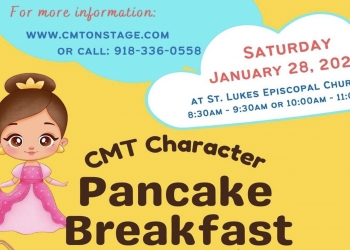 Garrett Giles
Children's Musical Theatre invites you to its Character Breakfast Fundraiser.
This fun event will be held on Saturday, Jan. 28 at St. Luke's Episcopal Church from 8:30 to 9:30 a.m. or 10:00 a.m. to 11:00 a.m., your choice! Tickets cost $15 per person and include a delicious breakfast and photo opportunities with your child's favorite super heroes, princesses, cartoon characters and much more.
For more information, call 918.336.0558 or visit cmtonstage.com.
« Back to News