Sports » Latest News
Sports
Posted: May 16, 2022 7:45 AMUpdated: May 16, 2022 8:46 AM
BHS Track and Field Outstanding at State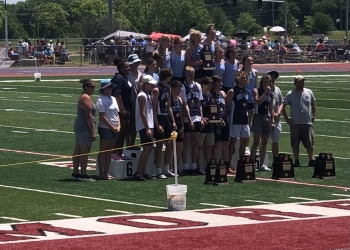 Bartlesville High had a great showing at 6A State in track and field over the weekend in Ardmore.
A few highlights: Campbell Barta placed in three events, taking fifth in the 200, fifth in the 400 and fifth in the long jump. Meanwhile Kadance Barnett was second in the long jump and seventh in the 100-meter-dash. Regan Hodge took second in high jump.
The lone state championship was Jack Wahl who was first in the high jump.
The girls took seventh in the state, while the boys were 16th as a team.
Maybe the most impressive, both the BHS clubs were named academic state champions, with the guys at a 3.9 GPA and the girls with a perfect 4.0.
OVERALL RESULTS:
Campbell Barta (5th 200, 5th 400, 5th long jump), Kadance Barnett (2nd long jump, 7th 100) Jaiden Stevenson (6th discus, 9th shot) Ragen Hodge (2nd high jump), girls 4x200 (6th), Quincey Turner (4th pole vault), girls 4x400 (5th), Jack Wahl (1st high jump), Kade Bostwick (8th pole vault). Boys 4x400 (15th).
Girls got 7th overall, guys 16th overall.
Both are academic state champions (Boys GPA 3.997, Girls GPA 4.000)
(Photo from Chuck McCauley Twitter)
« Back to Sports