Sports » Latest News
Sports
Posted: Nov 20, 2023 7:24 AMUpdated: Nov 20, 2023 8:24 AM
Bruin Football Falls at Deer Creek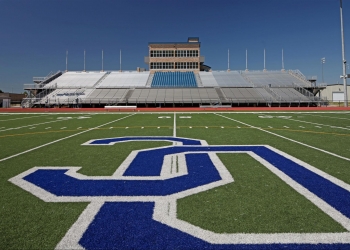 Bartlesville High's run in the 6A-II football playoffs game to an end on Friday night in Edmond. A high-powered Deer Creek Offense kept the Bruins at bay.
Deer Creek topped BHS 35-7.
Bartlesville got in a 14-0 hole it could not dig itself out of. After the Bruins on their first two drives, Deer Creek would score touchdowns, from 38 and 47 yards, which would put the writing on the wall early.
BHS was down 21-0 at halftime, but briefly got some life in the first 10 seconds of the third quarter. An onside kick recovery followed by a long pass play from Nate Neal to Damien Niko would put the Bruins on the board.
The Antlers would answer with touchdowns on their next two drives to put the game away.
Despite the two-score deficit in the first quarter, Bartlesville battled back in the first half. The Bruins would drive inside the Deer Creek 10-yard line before a failed fourth down handed the ball back to the Antlers.
Deer Creek quarterback Grady Adamson would then throw an interception at the Antler four-yard lien two plays later. However, it was not meant to be. BHS would fumble back to Deer Creek on the next play to end the threat.
BHS will graduate about 11 starters off a club that finished 5-7. Bartlesville will return a majority of its offensive production.
More planned on the Bruin offseason later this week.
« Back to Sports