Sports » Latest News
Sports
Posted: Dec 23, 2021 8:50 AMUpdated: Dec 23, 2021 9:50 AM
Bruin Hoops Bump Up in Rankings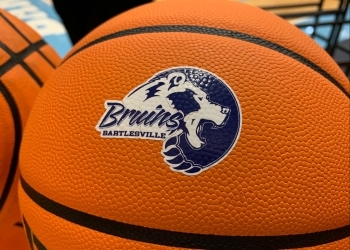 Bartlesville High boys' basketball is taking some well-deserved time off, as the grind of January and February is just around the corner.
BHS is coming off one of its best wins in recent memory, a 57-56 road victory at Broken Arrow. The Bruins rallied from 16-points down to bank a road win against the No. 2 team in the state. Bartlesville bumped back up to No. 13 in the state in the latest OSSAA Rankings that came out earlier this week.
It was junior Aadi Ayyappan that made the difference with his defense down the stretch. Bruin head coach Clent Stewart.
Ayyappan finished with a team-high 17 points. He made two defensive plays in the final 1:30 that both led to Bruin steals and eventual win. Broken Arrow did its best to hold sophomore David Castillo down. Castillo finished with 13-points. The second-lowest point total of his career.
However, Stewart says it may have been one of the best performances he has had.
Stewart says he gave the club this week off for Christmas. The Bruins will begin practicing again on Monday getting set for a big Tuesday home-opener against Union.
« Back to Sports