Sports » Latest News
Sports
Posted: Jan 15, 2022 5:23 AMUpdated: Jan 15, 2022 6:23 AM
Bruins Blowout Sand Springs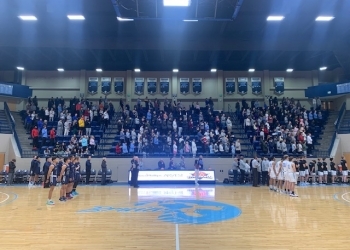 Bartlesville High had another split night of hoops, with the BHS girls falling to Sand Springs, but the guys winning.
Lady Bruins fell 55-37, while the Bruin guys blasted the Sandites, 82-54.
On the girls side first, BHS pushed the undefeated No. 8 team in the state. The Bruins were down only seven at half, and had the lead several times in the opening two quarters. However, Sand Springs would outscore Bartlesville 20-4 in the 3rd quarter, which would end up being the game.
Mikka Chambers came off the bench to score a team-high 13 points.
---
Meanwhile the Bruin guys win was a blowout from the opening tip. The Bruins scored early and often, getting a 14-0 lead in the opening 2.5 minutes of the game.
David Castillo had two threes in that run.
Castillo was on his way to 20-first half points. Bartlesville would hit six threes as a team in the first quarter and the rout was on. BHS would get up by as many as 40 before all the Bruin starters sat in the fourth quarter.
This nice find from Castillo to Jordan Carter in transition got the 3rd quarter started off right.
Bruins improve to 6-4. Girls drop to 3-8.
Both clubs next host Bixby on Tuesday before tournament play in Oklahoma City next weekend.
« Back to Sports