Sports » Latest News
Sports
Posted: Jan 14, 2022 6:19 AMUpdated: Jan 14, 2022 7:25 AM
Bruins Host Sandite Hoops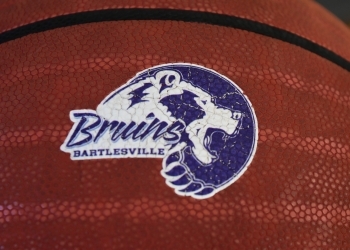 Bartlesville High basketball is back in action in a Frontier Valley Conference double-header on Friday night, as BHS is back at Bruin Field House against Sand Springs.
The Bartlesville girls and guys split their twin-bill at Owasso on Tuesday, with the Lady Bruins losing a close one, and the Bruin boys pulling out an overtime win.
Six of the Bruin guy's seven games on Oklahoma soil this year have been decided by single-digits.
Head coach Clent Stewart says that victory over the Rams is a good one.
Bartlesville was able to make free throws down the stretch at Owasso, something the Bruins had struggled with in close losses to Jenks, Union and Booker T. BHS is shooting 73.7% from the line as a team, a good number.
Stewart talks about what it takes to make big foul shots in the final minutes of a close game.
David Castillo made a pair to ensure a three-point BHS lead with only two seconds left against Owasso. Sand Springs is 3-6 on the guy's side, 9-0 on the ladies.
A 6:30 start time for the double-header on KWON – AM 1400, FM 93.3 and 95.1 and KWONTV.com on Friday night.
*These games were orginally scheduled to be in the old Phillips Gym, but have been moved back to Bruin Field House.*
« Back to Sports