Sports » Latest News
Sports
Posted: Jan 07, 2022 8:04 AMUpdated: Jan 07, 2022 9:11 AM
Bruins Split Day 1 at COP-Arvest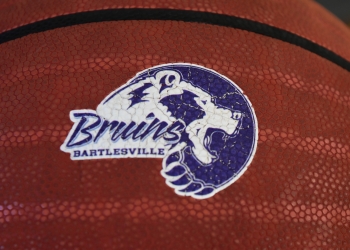 Bartlesville High basketball split its first two games at Bruin Field House in the ConocoPhillips Arvest Invitational on Thursday night.
BHS girls lost to 5A No.1 Carl Albert, 59-43. Meanwhile the Bruin guys blew out Tulsa McClain, 72-45.
On the ladies side, BHS led throughout the entire first quarter. A brief five-point Bartlesville lead evaporated, as McClain would lead by five at halftime, and then hold BHS to only four points in the third quarter to extend the lead to double-digits and never look back.
On the guy's side, BHS lead from wire-to-wire. A balanced scoring attack helped the Bruins, as Bartlesville tallied 22 bench points, and had only two players in double figures. David Castillo had 16 while Jordan Carter got 13.
This breakaway layup from Carter off a steal would put the Bruins up 18 early in the second half.
From that point the rout was on.
Bartlesville got a banked in three-point at the buzzer from DaRon Davis that would put an exclamation point on the performance.
Bruin guys move on to the winner's bracket to face Southmoore on Friday night at 8:30. The Sabercats got a win over Bixby to advance to the semis. Guy's game will air on KWON – AM 1400, FM 93.3 and 95.1.
Meanwhile the Bruin girls face Tulsa Memorial at 1:00 PM in the consolation bracket. We will have coverage for both games on KWONTV.com.
Girls game on KWONTV.com only.
Thursday's Results:
Girls:
Bishop Kelley d Stillwater 53-44
Broken Arrow d Southmoore 44-43
Del City d Tulsa Memorial 56-51
Carl Albert d Bartlesville 59-43
Boys:
Tulsa Washington d Stillwater 74-61
Carl Albert d Bishop Kelley 71-57
SouthMoore d Bixby 68-64
Bartlesville d McLain 72-45
Friday's Matchups:
Girls:
10am Southmoore vs Stillwater
1pm Bartlesville vs Tulsa Memorial
4pm Broken Arrow vs Bishop Kelley
7pm Carl Albert vs Del City
Boys:
11:30am Bishop Kelley vs Stillwater
2:30pm Tulsa McLain vs Bixby
5:30pm Carl Albert vs Tulsa Washington
8:30pm Bartlesville vs Southmoore
« Back to Sports