Sports » Latest News
Sports
Posted: Nov 23, 2021 7:36 AMUpdated: Nov 23, 2021 8:37 AM
Could be Final Bedlam for While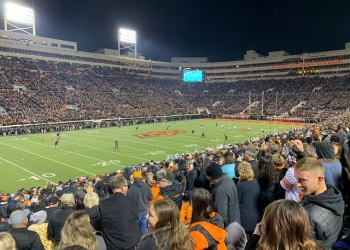 Bedlam is coming up on Saturday, as Oklahoma State hosts Oklahoma at Boone Pickens Stadium in Stillwater.
The move from the Big 12 to the SEC and this high-stakes version of the in-state rivalry has many wondering if this will be the last Bedlam showdown in Stillwater for a while.
OK-State head coach Mike Gundy says he's pessimistic about the annual game continuing when the Sooners make their conference move.
Oklahoma and Oklahoma State have met 115 times on the football field, with OU owning a hugely lopsided advantage in the series. The game has been played every year since 1910.
Oklahoma State is a 3-point favorite on Saturday. Just the second time since 2013 that the Pokes have been favored. They lost the previous two matchups.
A 6:30 kick with the Cowboy broadcast on KWON – AM 1400, FM 93.3 and 95.1. The Sooner broadcast on 100.1 – KYFM.
« Back to Sports