Sports » Latest News
Dewey Basketball, Nowata Basketball
Posted: Dec 04, 2021 5:46 AMUpdated: Dec 04, 2021 6:46 AM
Dewey Takes Down Nowata at the Buzzer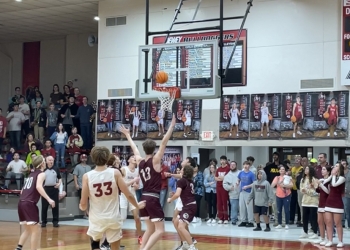 The Dewey Bulldoggers won a thriller on Friday over rival-Nowata, 45-44. Jacob Mouser hit a fadeaway shot at the buzzer to win it for the Doggers. Here's how the final sequence sounded on KRIG.
The Doggers were down by four with 20 seconds left. Jake LaSpisa would hit a three-pointer to pull the team within one. Then the Ironmen would turn it over in the back court setting up an inbound play with .7 seconds on the clock. Mouser describes the final sequence.
Mouser scored 14 points—all came in the second half. LaSpisa led the team with 20 points. The Doggers overcame a 30-10 deficit at halftime to beat the Ironmen. At 2-0 to start the year, Dewey has already matched its win total from last season.
Kaleb Bashford, James Ewers and Jace Thompson all scored in double-figures for the Ironmen. Nowata scored just 14 second half points. The Ironmen fall to 1-1. Both squads will start tournament action next week.
« Back to Sports