Sports » Latest News
OKWU Basketball
Posted: Jan 08, 2022 6:51 PMUpdated: Jan 08, 2022 7:51 PM
Eagles Fall in Overtime; Drop to 16-1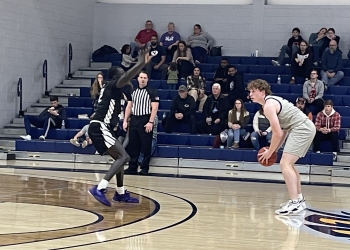 Oklahoma Wesleyan men's basketball saw its undefeated run come to an end with an overtime loss to Southwestern, 87-85 on Saturday. A three-point attempt at the buzzer rimmed out as the Eagles suffered their first loss of the season.
The game was played within five points the entire second half. Brandon Bird and DJ Talton combined for 48 points to carry the team down the stretch. Talton hit an uncontested layup to square the game up in regulation.
SW missed two free throws that could've broke a 78-78 tie with one second left in regulation.
The Eagles struggled early in the overtime period and trailed 85-82 with one minute left. Bird would be fouled on a three-pointer and would knock down each free throw.
Southwestern would get a bucket to take a two-point lead before the Dylan Phillip's three missed at the buzzer. The Eagles drop to 16-1 on the season but still hold the first spot in the KCAC standings.
The Lady Eagles won 80-46 in the first game of the day. OKWU scored its highest point total all season in the victory. Both teams will be back at it on Monday with a doubleheader at Sterling.
« Back to Sports