Sports » Latest News
OKWU Basketball
Posted: Jan 07, 2022 5:30 PMUpdated: Jan 07, 2022 6:30 PM
Eagles Look to Stay Undefeated Against Southwestern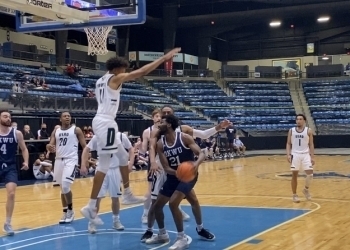 The Oklahoma Wesleyan men's basketball looks to continue its undefeated run. OKWU is 16-0 ahead of a big matchup with its rival Southwestern College ahead of Saturday afternoon's meeting.
The Eagles earned an 81-71 victory over Ottawa on Wednesday in their first game back after winter break. OKWU has won every conference home game by more than 10 points so far this season. Eagles head coach Donnie Bostwick says the team has formed good habits.
Southwestern upended the Eagles in 2019 when they were previously 17-0. The Builders have notched more victories in Bartlesville than any KCAC opponent since 2017.
The Lady Eagles will be heavily favored in their first game back. OKWU will take on a 1-15 Southwestern club. Former Caney Valley basketball player Paige Urquhart will likely see time off the bench for Southwestern.
The Doubleheader starts at 3 p.m. Radio coverage can be heard on Sportstalk 1500 AM—99.1 FM KPGM.
« Back to Sports