Sports » Latest News
Sports
Posted: Dec 01, 2021 7:21 AMUpdated: Dec 01, 2021 8:21 AM
High Hopes for BHS Swimming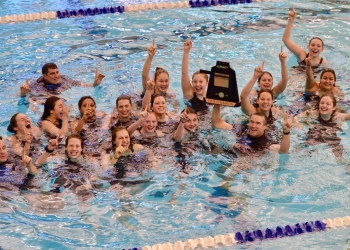 We've talked a lot about basketball, but swimming and wrestling have also kicked off across the listening area.
At Bartlesville High, the expectations are always high for the swim team, but this year the BHS girls will have one of the highest ceilings they've had in a few years.
Bartlesville is back to a normal schedule this winter. Neither boys nor girls teams could host any meets a season ago because of COVID-19. The Bruins would go weeks without any competition. So despite having a season with Regionals and State, it was not usual.
Head coach Chad Englehart is back for another season, and says it is nice to get back to a heavier schedule.
The Bartlesville guys finished second at state last year, but graduated several talented seniors. There will be no seniors on the Bruins roster this winter. For the Lady Bruins, there will be two familiar names returning who didn't compete last year.
Englehart gives a preview of the BHS girls.
Big meet for BHS on Tuesday of next week on the road at Jenks.
« Back to Sports