Sports » Latest News
Dewey Basketball
Posted: Jan 07, 2022 5:10 PMUpdated: Jan 07, 2022 6:11 PM
Miller Scores 31 in Doggers' Victory Over Oologah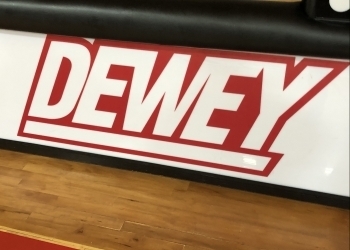 The Dewey Bulldoggers narrowly escaped with a 71-70 victory over Oologah in tournament action on Friday afternoon. The Doggers let a 20-point nearly slip away completely in the consolation semifinal victory.
Colby Miller was the story early on. Miller made four r three-pointers in the first quarter. After a quiet second period, Miller would hit four more from beyond the arc in the third quarter. This triple stretched the Doggers second half lead.
Miller aided the Doggers to a 50-30 advantage at one point in the contest. He finished with a career-high 31 points.
Things would get a tad hairy towards the end. The Doggers struggled with Oologah's pressure and turned the ball over several times late. The Mustangs got hot from downtown in the final minutes but came up just short of a miracle comeback.
Dewey moves to 6-4 with the win. The Doggers will meet up with Rejoice Christian in the 5th place on Saturday at 2:30 p.m.
« Back to Sports