Sports » Latest News
Dewey Football
Posted: May 14, 2022 6:16 AMUpdated: May 14, 2022 7:16 AM
New Coach to Lead Dewey into Spring Football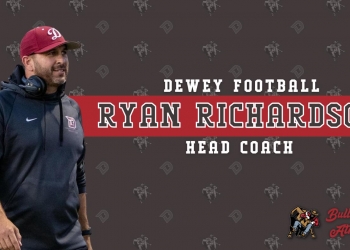 The Dewey Bulldoggers are among the many area teams that will start up spring football this week. Spring camp will be the first time that Ryan Richardson will officially be atop the program. He was hired by the school board last week after serving as the defensive coordinator for the 2021 season.
This will be Richardson's second stint as a head coach having previously led Putnam City North for three seasons from 2014-2016. The coach has held multiple roles at the 6A level. Richardson says he has learned a lot from his previous posts that he hopes to apply at Dewey.
The Bulldoggers went 1-9 last year and struggled on both sides of the ball at times. Although he worked on the defensive side of the ball last year, Richardson has a wealth of experience on offense. The Doggers will spend most of spring camp installing new playbooks of both sides of the ball. Richardson says the offense will have a different feel in 2022.
The Doggers will not have an official spring game at the end of the session. Dewey will instead culminate its spring practices with a team camp date in Cleveland.
(PHOTO COURTESY: Dewey Public Schools / Facebook)
« Back to Sports