Sports » Latest News
Nowata Basketball
Posted: Nov 30, 2021 4:36 PMUpdated: Nov 30, 2021 5:36 PM
Nowata Basketball Set for New Era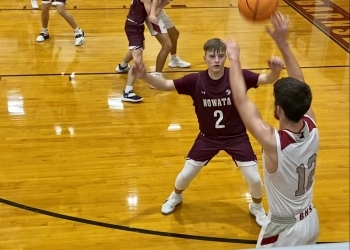 The Nowata Ironmen basketball team will have something of a new look this season. Longtime head coach Gary Hollingshed is now the girl's head coach at Stigler High School. Nate Smith steps into the role with the Ironmen. Smith coached in Arkansas for several years before making a stop at Owasso as an assistant then leading the Bixby boys' team for two years before coaching at Porter most recently.
A new crop of playmakers will be relied upon for the Ironmen this season. Jace Thompson and Skylar Stevens saw the floor last year as roles players but will take bigger roles this season. Coach Smith talks about the gameplan for the season.
Offense wasn't on full display in Nowata's lone game this season—a 41-16 defeat of Fairland. The Ironmen get into the heart of their schedule with a trip to Dewey on Friday ahead of the Ty Hewitt Tournament starting on Monday, December 6.
Select Ironmen games can be heard on KRIG 104.9 FM and heard on KRIGTV.com.
« Back to Sports