Sports » Latest News
Sports
Posted: Nov 18, 2023 7:16 PMUpdated: Nov 18, 2023 8:20 PM
OKWU Eagle Basketball Splits Home Conference Opener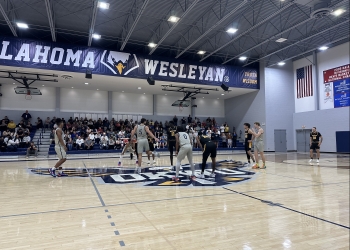 Oklahoma Wesleyan basketball opened up their home conference play on Saturday as they hosted the Ottawa Braves after they split a road trip at Bethany last Wednesday. The ladies opened the evening with a thriller as they would fall in double overtime to the Braves, 73-68.
The Lady Eagles had some opportunities to win, but a third quarter where they were outscored 10-2 ended up being the factor that allowed Ottawa back into the game to eventually win. Lady Eagles fall to 1-5 and 0-2 in conference play.
On the guy's side, they were able to pull out a win from a very low scoring affair, 59-55. It was a defensive battle that was never separated by more than six-points. The Eagles led late in the second-half 56-53 when the shot clock was running low.
Jaden Lietzke led the way with 16 points and six boards on the night, with DJ Talton right behind with two points of his own. Eagle men move to 7-0, and 2-0 in conference play and are off until November 29th when they hit the road at St. Mary's.
« Back to Sports