Sports » Latest News
OKWU Basketball
Posted: Jan 04, 2022 3:04 PMUpdated: Jan 04, 2022 4:14 PM
OKWU Faces Major Test at Ottawa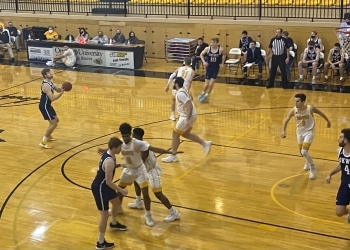 Oklahoma Wesleyan basketball returns to the court on Wednesday for a doubleheader at Ottawa. The Eagles have not played since mid-December after taking a couple of weeks off for winter break.
The Wilson Fieldhouse in Ottawa is always tricky as the Eagles have lost seven straight in that building dating back to 2011. Head coach Donnie Bostwick talks about playing at Ottawa.
OKWU beat Ottawa at the buzzer in the KCAC tournament semifinals in their most recent meeting back in March 2021. Tipoff is set for 5 p.m. Radio coverage can be heard on Sportstalk 1500 AM—99.1 FM KPGM.
The Lady Eagles will not be playing due to COVID-19 issues with the Ottawa women's program.
« Back to Sports