Sports » Latest News
OKWU Basketball
Posted: Dec 01, 2021 3:14 PMUpdated: Dec 01, 2021 4:14 PM
OKWU Travels to Bethel for KCAC Doubleheader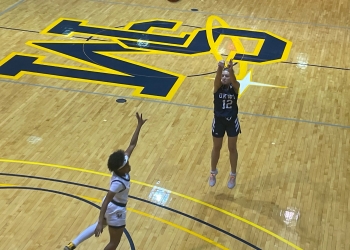 Oklahoma Wesleyan basketball hits the road for a doubleheader at Bethel College on Thursday night. The Lady Eagles will face a struggling squad while the men's team takes on the defending conference champs.
The OKWU women will look to shake off a two-game losing streak. The Lady Eagles won two straight prior to that but have not been able to find consistency. Senior guard Makayla Watkins says improvement needs to start on offense.
The men's team comes in at 11-0 and ranked No. 9 in the most recent rankings update. OKWU will compete with a Bethel squad that beat it three times last season including in the KCAC Tournament finals. Head coach Donnie Bostwick says his team is hard to beat right now.
Bethel has struggled out of the gate to a 2-2 conference record despite having largely the same team as last season. A win could give OKWU a three game advantage on its biggest competition for the KCAC crown.
The doubleheader tips off at 6 p.m. Radio coverage can be heard on Sportstalk 1500 AM—99.1 FM.
« Back to Sports