Sports » Latest News
Bruins
Posted: Jul 14, 2022 6:05 AMUpdated: Jul 14, 2022 7:05 AM
Opening Practices Nearing for Bruin Football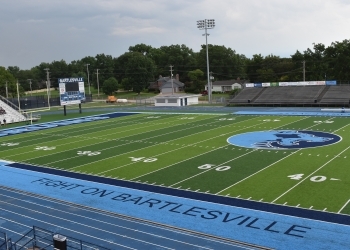 Bruin football is just around the corner, as Bartlesville High and the rest of the state can begin practicing on August 1. Head coach Harry Wright is nearing the end of his first preseason, and it's been a busy one.
Record setting attendance school-wide at summer pride, extra position-specific camps and many 7-on-7 dates have set the Bruins up for the first practices under a mostly-new staff in less than three weeks.
Wright will have a pick of numerous returners this fall, but the person with the most on-ball experience is likely running back Austin Zink.
Zink was last year's starting running back for most of the season. The junior-to-be ran for 653 yards on 148 carries a year ago. Wright says the staff is looking to find way to get Zink the ball.
Bartlesville will begin practice on Aug. 1 with scrimmages leading up to the Bruins first game on Sept. 2.
« Back to Sports