Sports » Latest News
Pawhuska Football
Posted: Dec 04, 2021 5:52 AMUpdated: Dec 04, 2021 6:52 AM
Pawhuska Falls in State Semis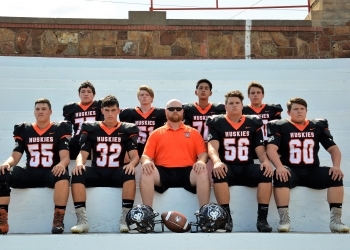 A dream season for the Pawhuska Huskies came to an end Friday night, as they fell to the Cashion Wildcats for the second consecutive year in the Class A State semifinals, 35-31. It was a back and forth affair throughout and with Pawhuska trailing 13-3 in the first quarter, this Tyrel Richardson touchdown trimmed the lead to two after a successful two-point conversion.
Pawhuska trailed 20-18 heading into halftime. After forcing a three and out, Pawhuska's Kooper Kyler kicked a 34-yard field goal to retake the lead at 21-20, but Cashion chewed up nearly eight minutes of the third quarter clock and capped it off with a touchdown. A two-point conversion gave the Wildcats a 28-21 lead.
Kyler kicked another field goal to trim the lead to 28-24 and after forcing a turnover on downs, the Huskies scored their final touchdown on a direct snap to Richardson with eight minutes remaining in the final frame.
On the ensuing drive, Cashion quarterback Clayton Harmon was able to find wideout Mason Manning on a 40 yard post pattern to take the 35-31 lead. The Huskies got the ball back with just over three minutes remaining in the contest and worked their way down to the Wildcat 20, but were unable to convert on fourth down.
Pawhuska finishes the year 11-3. Cashion moves on to play Ringling for a chance at the Gold Ball next Saturday.
« Back to Sports