Sports » Latest News
Sports
Posted: Dec 01, 2021 7:23 AMUpdated: Dec 01, 2021 8:23 AM
Pokes Up to No. 5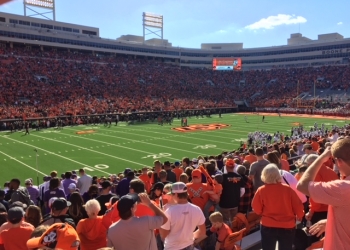 The latest College Football Playoff rankings came out on Tuesday night, and Oklahoma State has moved up two spots.
Heading into Championship Saturday the Pokes came in at No. 5. Behind Georgia, Michigan, Alabama, and Cincinnati.
The rankings probably mean that Oklahoma State would be into the College Football Playoff with a win over Baylor on Saturday, and some help.
The Cowboys will be cheering for Georgia to knock Alabama out of the picture if the Bulldogs can win the SEC Title on Saturday. An OK-State win paired with an Iowa victory over Michigan or a Houston win over Cincinnati would also likely get the Pokes in.
Oklahoma State and Baylor play for the Big 12 Championship Saturday at 11:00 on KWON.
« Back to Sports