Sports » Latest News
Sports
Posted: Dec 25, 2021 5:29 AMUpdated: Dec 25, 2021 6:34 AM
Sports Year in Review: Bruin Volleyball Great in '21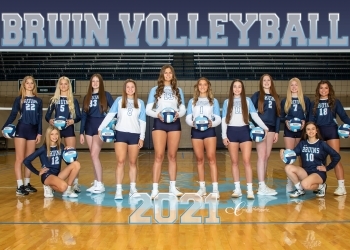 We continue our year in review series, as we look back at the best local sports stories in 2021, as Bartlesville High volleyball had a season to remember. The Lady Bruins had one of their best seasons in decades, although it ended one win shy of state.
The Bruins fell in the 6A Regional finals at Norman North.
BHS topped Westmoore 3-1 in the semifinal matchup of the Norman North Regional before falling to the host-club Timberwolves 3-0 in the nightcap.
The Bruins battled, falling 25-20 and 25-22 in the first two sets, but it ended up being too big of a hole to dig out of.
This kill from Mia Otten would keep BHS afloat in the second set of the championship match.
Bartlesville finished its season at 23-11, just four years removed from a five-win season when the current crop of seniors were freshman.
After the contest head coach Jenn Ward said she was proud of this group for the season they had.\
Bartlesville graduates four seniors in Katy Lauritsen, Sydney Collins, Cambria Brewster and Otten. Otten will hold numerous school records upon her graduation in May when she heads to the University of Dayton to continue her volleyball career
« Back to Sports