Sports » Latest News
Sports
Posted: Dec 23, 2021 8:43 AMUpdated: Dec 23, 2021 9:43 AM
Sports Year in Review: Hall Shines in 2021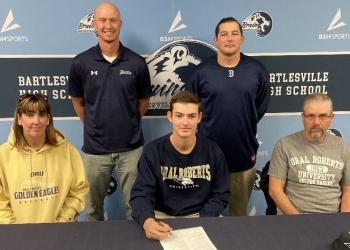 We continue our look at the best sports stories across the Northeast Oklahoma area in 2021, with a gem of a baseball game and a season from one of the best to ever hurl it for Bartlesville High.
Bruin senior Jakob Hall dazzled on the bump for BHS throughout the spring. Hall threw 62.2 innings for the Bruins, went 5-2 with a .559 ERA. In those nearly 63 innings Hall allowed 32 hits, six walks and struck out an outrageous 110 batters. That is 1.76 strikeouts per inning.
He allowed .601 walks and hits per innings pitched.
The great spring culminated on April 13, when Hall faced the minimum 21 batters in a complete game shutout against Putnam City West. Two Putnam City West hitters reached on singles, both of whom made outs on the bases later on.
Hall struck out 16 of the 21 batters he faced, including this one for the final out of the game.
Hall would go on to have a .802 ERA in four starts with the Doenges Ford Indians over the summer before an injury sidelined him for the last month of the season.
Hall is a freshman at Oral Roberts University this year, and will have his first season with the Golden Eagles starting in February of 2022.
« Back to Sports