Sports » Latest News
Sports
Posted: Dec 23, 2021 8:47 AMUpdated: Dec 23, 2021 9:47 AM
Sports Year in Review: OKU Wins State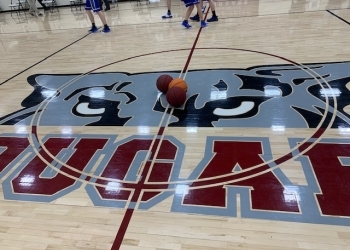 One of the top stories from 2021 has to be Oklahoma Unions' run to the 2A boys' basketball state title.
The Cougars had dominated area competition over the previous two seasons and finally reached their full potential with a 64-54 win over Howe to win state.
Evan Fahrbach had the final call on KRIG 104.9 FM.
The Cougars lost just twice in their dream season. They were led Jace Hollingshed who took state tournament MVP and All-State honors. Hollingshed is now at the University of Science & Arts of Oklahoma playing basketball.
Seniors Nate Collier, Dillon Ellis and Henry Auer all played major roles. Jaiden Kennard and Baylor Nash were also key contributors.
OKU head coach Lee Ott talked about the team fondly.
This was the team first ever state title. OKU is continuing its success this season with a 7-1 record. The Cougars also have advanced their home winning streak to 29games.
« Back to Sports